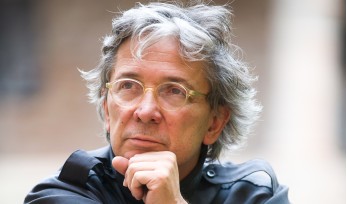 © Rolando Paolo Guerzoni
CESARE RONCONI
After graduating in Architecture at the IUAV University of Venice he founded in Cesena together with Mariangela Gualtieri, poet and playwright, the Valdoca Theatre Company (1983). His theatrical works have two fundamental elements: the actor – as a glorious body and primary source of inspiration - and the poetic verse. The actor's central role foregrounds Ronconi's teaching work as he trains the performers of every play himself, helping many young beginners achieve their professional maturity and then integrating their work with that of more experienced actors. Each of his works is also the genesis of a new text by Mariangela Gualtieri, created in the forge of rehearsal and under the suggestion of the different performers. In the last decade he conducted various European Higher Education Courses for the Actor. Among the many plays he has directed: Lo Spazio della Quiete (1983 and 2009), Ruvido Umano (1986), Antenata (1992), Ossicine (1994), Fuoco Centrale (1995), Nei Leoni e nei Lupi (1997), Parsifal (1999) and the trilogy Paesaggio con fratello rotto (2004/2005), rightfully considered the peak of this journey. In 2011 he directed Caino, another great Valdoca's fresco.
In the last few years Ronconi has been working on Trilogia della gioia, comprising O tu reale, scontrosa felicità (May 2012), Ora non hai più paura (February 2013) and Arcaico Prossimo (May 2014). In addition 2013 saw the debut of the 'rito sonoro' by Mariangela Gualtieri Le giovani parole, while 2014 that of Valdoca's new production, Voci di tenebra azzurra, a precious pièce of art and poetry.
Ronconi collaborates with the University of Bologna, Department of Architecture Aldo Rossi, in Cesena.

Caino (Cain) / pdf / video

Paesaggio con fratello rotto (Landscape with broken brother) / pdf / video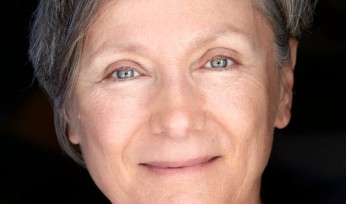 © Melina Mulas
MARIANGELA GUALTIERI


Mariangela Gualtieri (Cesena, 1951), poet and playwright, begins her writing career in the Valdoca Theatre Company, which she founded together with the director Cesare Ronconi. She participates in every staging by Ronconi, ready to sense and give voice to the scene's whirl of forces.

Since the beginnings she takes particular care of the oral dimension of poetry – through readings in verses both in Italy and abroad – focusing on the voice amplification system and on the interaction between poetic verse and live music. Her pedagogical activity runs uninterrupted through her workshops devoted to writing and, more recently, reading verses into a microphone.

Among her published texts: Antenata (Crocetti, 1992), Sue Dimore (Palazzo delle Esposizioni di Roma, 1996), Nei Leoni e nei Lupi (I Quaderni del Battello Ebbro, 1996), Parsifal (Teatro Valdoca, 2000), Chioma (Teatro Valdoca, 2000), Fuoco Centrale (Einaudi, 2003), Donna che non impara (Galleria Emilio Mazzoli, 2003), Senza polvere senza peso (Einaudi, 2006), Sermone ai cuccioli della mia specie (L'arboreto Editore, 2006), Paesaggio con fratello rotto (Luca Sossella, 2007), Bestia di gioia (Einaudi, 2010), Caino (Einaudi, 2011), Sermone ai cuccioli della mia specie, with audio-CD (Teatro Valdoca, 2012), A Seneghe. Mariangela Gualtieri/Guido Guidi (Perda Sonadora Imprentas, 2012).
Milo De Angelis on Mariangela Gualtieri
"Senza polvere senza peso" (Einaudi, 2006) on "Word without borders"
Three poems

Mariangela Gualtieri BEAST OF JOY Chelsea Editions, New York, 2018


(tran. Francesco Rossini)